The ultimate goal of the BOUNCE project is to provide adaptive decision-support algorithms and a digital tool to measure resilience of early breast cancer patients throughout oncological treatments and during the rehabilitation period. Optimally this would help clinicians to plan targeted psychosocial interventions customized to the needs of each patients at optimal timepoints during the course of treatment and recovery.
We are now just over the halftime of the project and an important milestone is reached since the 660 patients for the prospective clinical pilot study were recruited by December 2019. The interest and selfless dedication of participating women form the cornerstone of this study providing valuable information for the modelling of resilience and for developing the decision-support tool. In parallel with data collection, various stakeholder groups have been interviewed to develop a better understanding of how the decision-support tool could be implemented at hospitals and various other clinical environments and scenarios.
Many of the factors affecting resilience in breast cancer are common worldwide since they are related to personal and medical factors. In BOUNCE, we will also assess cross-cultural differences as participating centers vary from the public healthcare system of Finland to the hospitals of Southern Europe and Israel including also private hospitals.
Alongside resilience digitality is an important theme in BOUNCE as we are developing an IT tool for future use by clinicians but also as three out of four clinical study centers use the Noona tool for registering patient responses to various questionnaires and medical data. Noona was originally developed in Finland to support communication between patient and oncological professionals and to ensure timely reporting of oncological treatment side-effects-among other functionalities. Developing a massive questionnaire battery for Noona in several languages was a substantial effort in the beginning of BOUNCE and of course when developing something new some technical challenges have occurred. However pilot centers including the centers without any prior experience of Noona in Milan and Lisbon have used Noona without any major problems.
The first set of data, recorded at baseline (i.e., following cancer diagnosis but before the onset of oncological treatments) and after 3 and 9 months, is now being analyzed by our team statisticians and modellers, who are expected to report preliminary results as early as at the end of this month. Dissemination of study results will accelerate accordingly as BOUNCE experts will participate in several symposiums and conferences and start composing research reports for health psychology, psycho-oncology and medical informatics journals. During the next eighteen months the data collection in BOUNCE will continue as we will follow up participating women through their, hopefully successful, crucial recovery period. Longitudinal data to essential to facilitate mathematical modelling of individual patients' trajectories throughout this challenging period. As more data become available, the modelling team will continue their work with predictive models of resilience. These models are incorporated into the BOUNCE platform where they can be implemented and tested for specific cases by the team's clinicians.
Unsupervised clustering is one application of adaptive algorithms, whereby machine learning procedures are used to test the ability of exhaustive combinations of measured variables to group persons without a priory specification of neither the number of groups (or clusters) or the subset of variables that will contribute most to this "blind" grouping. Determining the optimal number of clusters is one of the most fundamental issues in cluster analysis and highly subjective to the criterion used for assessing clustering quality. Herein, models run multiple times over a loop with varying number of cluster choice and the optimal number of clusters was given using several internal validation criterion values.
Several unsupervised clustering techniques were applied to the baseline data (i.e., from Month 0 of the BOUNCE clinical pilot) from the four clinical sites, including partitioning based, hierarchical, fuzzy, and model-based. Twelve variables were fed into the models (including optimism, belief of events as predictable, overall self-perception of resilience capacity, anxiety and depression symptoms, perceived quality of life in physical, emotional, cognitive, social, and relational contexts). Several metrics were used to quantify the goodness of the clustering structure, including the Calinski-Harabasz, Dunn's and Silhouette index, which converged in solutions of two subgroups/clusters present in the data set. The sparsity-based partitioning clustering technique (K-POD) was chosen for this cohort as it has shown slightly better results compared to other methods applied to the same dataset. K-POD relies on k-means clustering providing an analysis framework capable of handling various types of missing data distributions and sources. Clinical validation of clustering results was initially performed against clinically established cutoffs on the depression and anxiety symptom scales. The adjusted rand index (ARI) was used under a permutation scheme to test the null hypothesis of random agreement between the cutoffs and the generated clusters.
As shown in the figure below, Cluster B consisted of women demonstrating significant symptoms indicative of both anxiety and depression, whereas nearly all women in Cluster A reported non-clinically significant symptoms.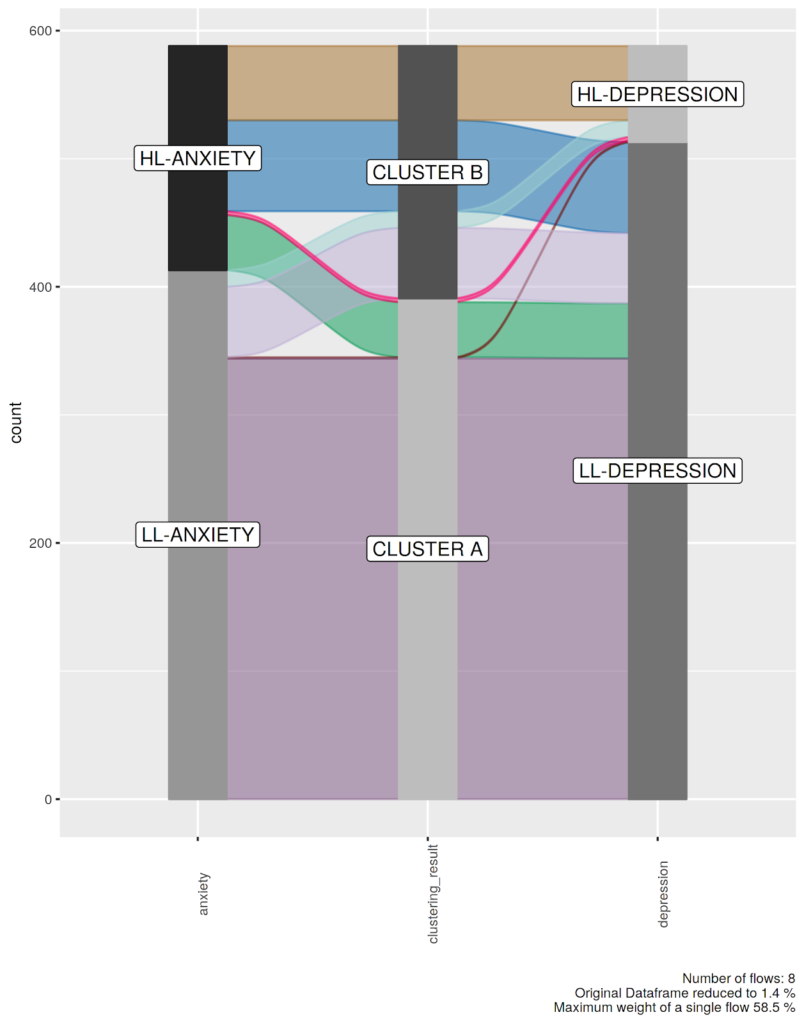 Closer examination of the distributions of scores on the 12 measures employed by the clustering algorithm, displayed in the figure below, indicated that in addition to anxiety and depression symptoms the two clusters displayed minimum overlap on the belief that life events are predictable and controllable (coherence), and perceived quality of life (mainly relational-social, and cognitive). Based on their psychological profiles, Cluster B was characteristic of negative adaptation, at least in this early stage of the illness, whereas Cluster A comprises women who display characteristics of positive adaptation to the illness.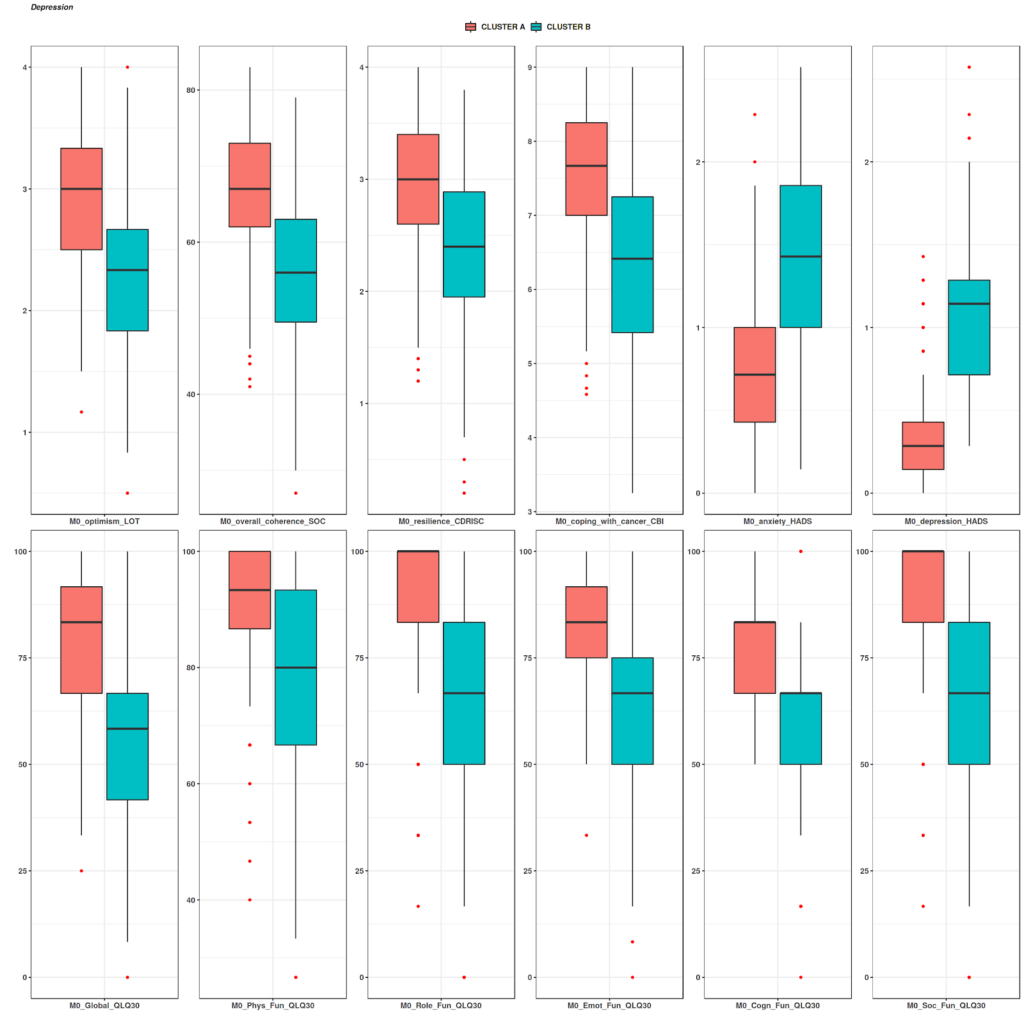 Inspection of other cluster characteristics—not considered by the clustering algorithm—reveals that negative adaptation was more characteristic of women who did not engage in regular physical exercise, were not in a relationship, and had experienced two or more significant life stressors in the past six months. Interestingly, adaptation at this stage of illness was not related to any other sociodemographic, life style, or psychological characteristic (of the several measured in the BOUNCE study). Taken together these findings highlight the importance of integrating measurements over two or more successive time points spanning six or more months of the crucial early period of cancer treatments in order to make reliable personalized assessments of resilience capacity.
By Georgios C. Manikis, MSc, Konstadina Kourou, MSc, Prof. Evangelos Karadimas, PhD, & Prof. Panagiotis Simos, PhD, University of Crete and Foundation for Research and Technology-Hellas (FORTH), Herakleion, Greece